VIEW THE
Archaeological Museum of Ioannina
The Archaeological Museum of Ioannina is located at Litharitsia and was built between 1963 and 1966 by the architect Aris Konstantinidis. It was first opened to the public on 1 August 1970.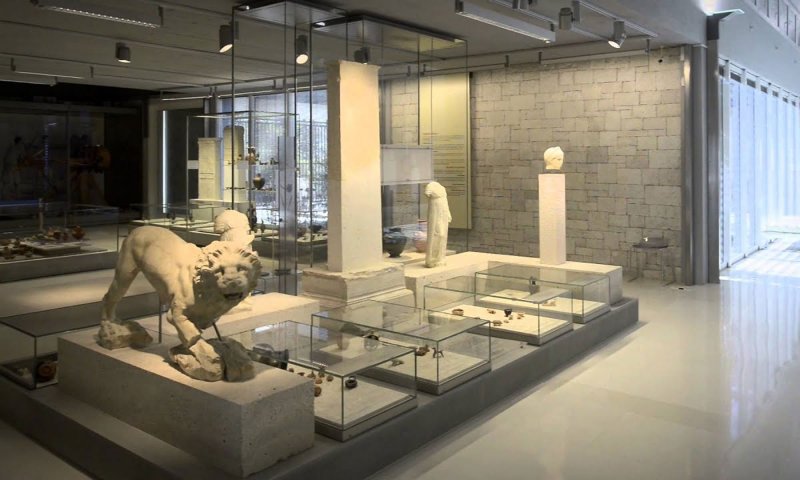 A gem of the city of Ioannina, a place of culture where 3,000 findings are presented according to the latest museographic concepts and offer the visitor the opportunity to observe the historical course of man in Epirus since his first appearance in the Lower Palaeolithic era 250,000 years ago, until late Roman times.
Museum collections are developed in seven rooms, the main corridor and three atriums, on a total area of ​​1,200 sq.m. Particular emphasis is given to the findings from the temple of Dodoni, which are exhibited in a hall devoted exclusively to one of the greatest divination of the Greek world.
More specifically, the thematic units are distributed in the exhibition areas as follows:
Hall 1 :   Prehistoric Epirus
Hall 2 :   Political and administrative organization of Epirus
Hall 3 :   Aiakides, the kings of Molossos
Hall 4 :   The everyday life of the residents of Epirus
Hall 5 :   The Archeology of Death
Hall 6 :   Epirus in the Roman era
Hall 7 :   The sanctuary of Dodoni
*It is open daily from 09.00 to 16.00, except Mondays and remains closed 25-26 December, New Year's Eve, Easter Sunday, May Day.